Logo Embroidery | Text Embroidery | Setup | Ordering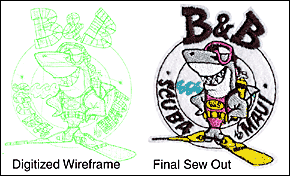 Crystal Clear Logos runs two embroidering machines, a four head and a six head. The machines sew exact duplicate images with each head at the same time. The four head produces four embroidered garments per run, and the six head produces six. With the aid of computer graphics, high quality designs can be sewn quickly and accurately.
Before an image can be embroidered, it must first be scanned into the computer and digitized. A wireframe is placed around sections of the image in the computer. The wireframe contains information that tells the embroidery machines what path the needles must follow. The digitizer must keep every needle movement and thread trim in mind so that the image will sew properly.
Crystal Clear Logos can reproduce most business logos as embroidered designs on many different garments.
The reproduction of embroidered logos requires the conversion of your design into a computerized stitching process called digitizing. Embroidery Digitizing requires specialized computer programs and skills along with considerable experience. The cost is based upon the final stitch count (how many stitches will be sewn all together) and complexity of the design. The digitizing cost of a left chest sized logo ranges from approximately $50 to $100.
After your logo is digitized, we will have the stitch count. We use this count along with the quantity of garments you want embroidered to quote your garment price.
To estimate the cost of digitizing, and embroidered logos you can send us a copy of your logo via
e-mail, fax, or mail.
Custom Text Embroidery is just what the name implies, lettering such as a name sewn into a garment. Embroidered text can be the name of your business, club, organization, etc.
You can order as few as one custom embroidered garment when embroidering text!
If you need custom embroidered shirts to dress up your business for a trade show, or for a special event in a hurry, you've come to the right place! In most cases we can setup and run embroidered text in a short period of time.
Setup charge: No setup charge (TEXT ONLY)

Number of lines: Name embroidery is available in 1, 2 or 3 lines of text.

Embroidery size: Available in logo size only (also known as "breast, "pocket" or "heart" size). This is the typical size for a company name to be embroidered on the breast or sleeve of a shirt. Logo size is any size 4.5" in length or smaller.

Embroidery location: Left chest (standard), Right chest, sleeve and other locations is also an option. Text can be A Straight Line or Arched.

Thread colors: all standard colors are available.

Cost: Available for $7.50 per garment.

Minimum Order: As few as 1 item.
Ordering Text Embroidery Is Simple
Determine how many letters & spaces there are in the name that you want embroidered and how many lines will be needed.

Select the typeface and thread color that you want.

E-mail your order to us, or call toll free (800) 755-0377
Text Embroidery Setup:
Text embroidery consists of sewing your name, company name, a saying, or anything else consisting of standard lettering to a garment. Normally located "above the pocket area". Text embroidery can be done in any of our 70+ lettering fonts.
Minimums: You can order as few as one (1) piece using text embroidery.
There is no setup charge for name/text embroidery, as long as we do not have to modify the lettering.
Logo Embroidery Setup:
With custom logo embroidery, we can build you a design or digitize your preexisting logo or art.
Art: We can work from business cards or letterhead stationery. Graphic files in the formats: .tiff, .psd, bmp. Vector formats such as ai, .eps and .cdr files will produce excellent results.
Color: You may use 1 to 12 different colors of thread.
Logo size: The average logo size is 2.5" X 3.5" and usually is less than 8000 stitches.
Note: Lettering must be 1/4 inch" or larger to be legible when embroidered.
Setup charge: The setup charge is typically $15.00 per 1000 stitches.
Production time: Once you approve your logo, you can expect to receive your garments within 7 to 10 business days.
Minimums: None