What Size?????
If you know whom you are trying to fit, sizing is simple. All garments are unisex sizing-i.e. men's sizes, unless specified otherwise in one of our catalogs. So if you are a man, order your size. If you are a woman, order one size smaller (men's small is a woman's medium). Remember that men's clothing tends to be longer in the waist and does not account for bust size.
Now, if you are ordering a large quantity of T-shirts for an event, so you are trying to fit the largest market (no pun intended), then we suggest weighting your order heavily in the Large and Extra Large sizes. These sizes seem to sell the best and you are less likely to be stuck with leftovers.
• • • IMPORTANT• • •
Please remember to order a bit more then you think you need, because people almost always end up needing more then they thought. This way you will avoid the expense of a reorder (small orders cost more).

Below we have a size chart for Port Authority. Although it does not reflect all garments It should be of some help.
The Port Authority Fit
Your chest measurement: measure chest just under the arms.
Your sleeve measurement: measure length from center back neck, over point of shoulder, to the wrist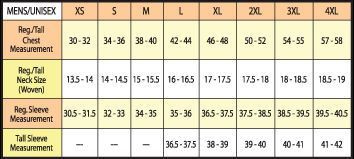 Click for Larger Image

Click for Larger Image